Helpful Directory of Ministry Descriptions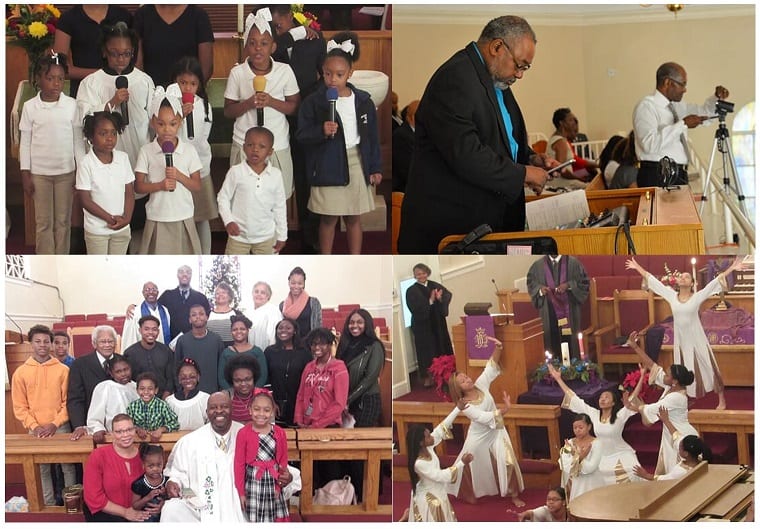 All are welcome to worship the Lord with us! We have worship for all ages at 10:00 a.m. each Sunday. Everyone participates in this traditional service. Special worship services are held throughout the year, including Ash Wednesday, Maundy Thursday, Good Friday, sunrise service on Easter Sunday, and Advent.
This Spiritual Formation ministry helps everyone connect and commit to the family of believers, equipping them to grow spiritually to be able to experience the life-changing reality of Jesus Christ.
Forward your registration request or questions to Wendell C. Love at wendell.love@gmail.com.
CLASSES OFFERED
New Offering
The Lenten small group Bible Study entitled" The Class Meeting: A Historical Wesleyan Spiritual Practice" begins Tuesday, March 3rd. from 12:00 - 1:30 pm in the Early Learning Center. 
A class ticket is required for attendance, $1.00 per class is required for the Benevolence Ministry. The book is $16.95 and will be available for purchase.
Rev. Mildred Gunn and Rev. Vance Ross, facilitators.
Mondays
The Class Meeting - Starting 1/27, 7:00 pm. Rev. Mildred Gunn, facilitator
Power Surge - Starting 1/27, 7:00 pm, Arlette Ricks , facilitator
Tuesday
The Disciple's Path - 12:00 noon, Rev. Vance Ross, facilitator
Three Simple Rules: Youth Class - 7:00 pm, Rev. Angela Johnson, facilitator
Journey through the Bible - 7:00 pm, Rev. Frederick Gray, facilitator
Wednesday
Jesus and the Disinherited - 7:00 pm, Herman Sloan, facilitator
Dave Ramsey's Financial Peace Class -  7:00 pm
Senior Pastor's Bible Study - 7:00 pm , Rev. Vance Ross, facilitator
Thursday
Three Simple Rules for Christian Living - 7:00 pm, Maxine Hunt, facilitator
Social Principles of the UMC - Starting 2/6, 7:00 pm, Min. Julie Gordon, facilitator
Saturday
Generation EX-Christians - Starting TBA , L.I.F.E. Group Leaders, facilitator
On-line Classes
Walking with Nehemiah - Carol Tucker Burden, facilitator. https://band.us/n/a1ab23A9i6849
Soul Reset - Wendell Love, facilitator
The Prayer Ministry mission is to undergird and support the mission of making disciples of Jesus Christ by expanding and strengthening the ministry of prayer at and beyond Central United Methodist Church. A weekly Wednesday evening prayer service is held at 6:00 pm.
Central's Children Ministry is committed to partnering with families to provide training for the children of the church and community in Christ-like attitudes, servanthood and discipling that will lead to a personal commitment to Jesus Christ, a greater understanding of the Christian faith, and a desire for life-long discipleship.
The Youth Ministry walks with youth in their journey to know Christ by creating an environment in which youth can experience Christian communion to hear the gospel to know God's love and to respond in faith by loving and serving others, for in all of this we are making disciples of Jesus Christ.
Central's L.I.F.E. (Living in Full Effect) includes believers between the ages of 18 to 35 who are committed to CUMC's mission. The ministry provides: a loving community in Christ through interdependency, accountability and inclusion; opportunities for community involvement and mentoring; and a connection between CUMC and the surrounding colleges.
The mission of Higher Education is to build capacity for Central UMC students to discover, claim and flourish in Christ's calling in their lives, by creating connections and providing resources to aid in education and spiritual formation.
The mission of the Central Couples Connection (C3) Marriage Ministry is to provide married couples with biblical principles and life skills that will help them establish and maintain healthy marriages through God's plan. We aim to assist couples in every stage of relational development through education, workshops and fellowship to create marriages that thrive on commitment, intimacy and growth.
Whether it be through prayer, singing, or communion, worship can take many different forms. Here at Central UMC, music plays a vital role in our worship experience. We strive to connect with Jesus as we perform, appreciate, and share in the music during every service. Our many music ministries are open to all, and allow for us to connect with each other as we work and serve together to prepare inspirational music to be shared in worship. Giving church members opportunities to develop and use their musical gifts and talents, as they grow spiritually, is a special goal of the music ministry at Central UMC.
Choirs
The Cathedral Choir
The United Voices of Central
Male Chorus
Anointed Voices Youth Choir
Inspirational Cherub Choir
The Technology Ministry team is positioned to assist and support Central United Methodist Church in reaching out to members, visitors, seekers and leaders through a variety of technology tools including: video, audio, print, "smart" technology, and internet. Because there is so much involved in developing and maintaining a dynamic presence through the effective use of technology, the Technology Ministry should be just as prominent and integrated into the church's total ministry plan as the other church ministries.
The Technology Ministry team builds dynamic, interactive, multi-layered services that expand the church's reach to connect with users 24 hours a day, 7 days a week, 365 days a year so that any person, anytime, and anywhere can become a disciple of Jesus Christ and enter into a life-changing, world-transforming journey of faith, hope and love.
Outreach Ministries are the tools and practices we use to bring good news to our community and the world.
Food Pantry
Not by Bread Alone
Youth Enrichment Program
United Methodist Women
United Methodist Men