Central United Women IN FAITH
"We seek to connect and nurture women through Christian spiritual formation, leadership development, creative fellowship and education so that they can inspire, influence and impact local and global communities."
We believe love in action can change the world.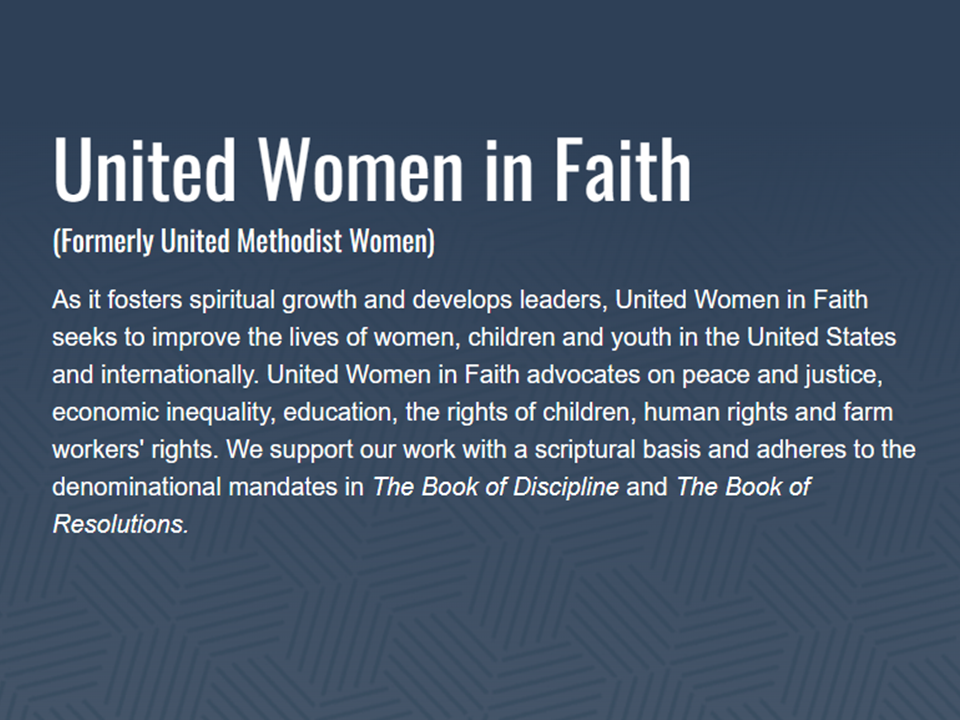 EVENTS AND HAPPENINGS - - -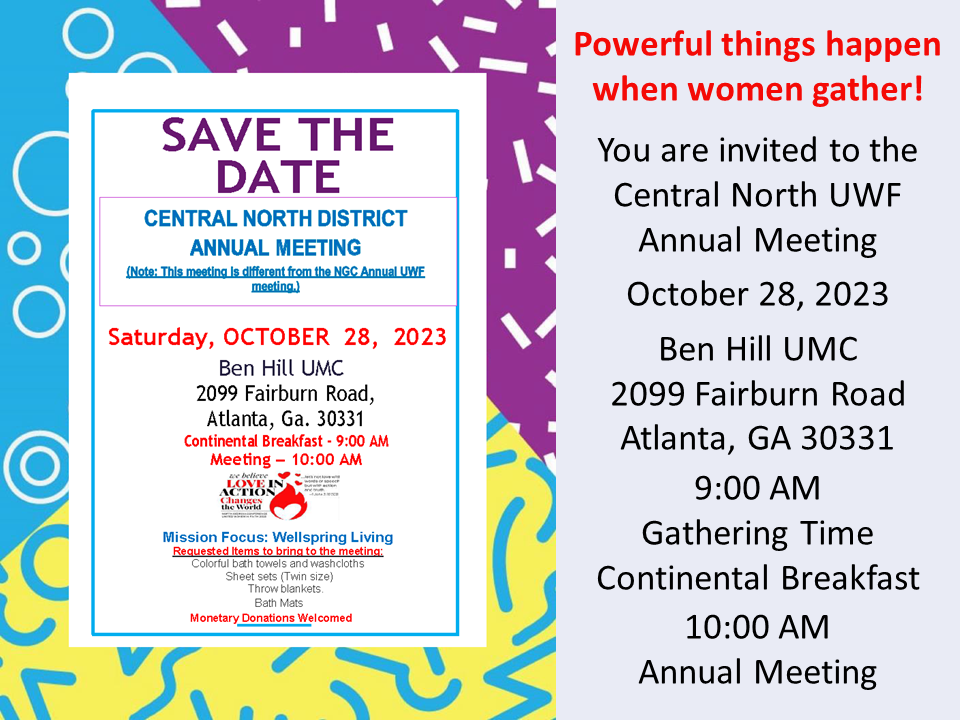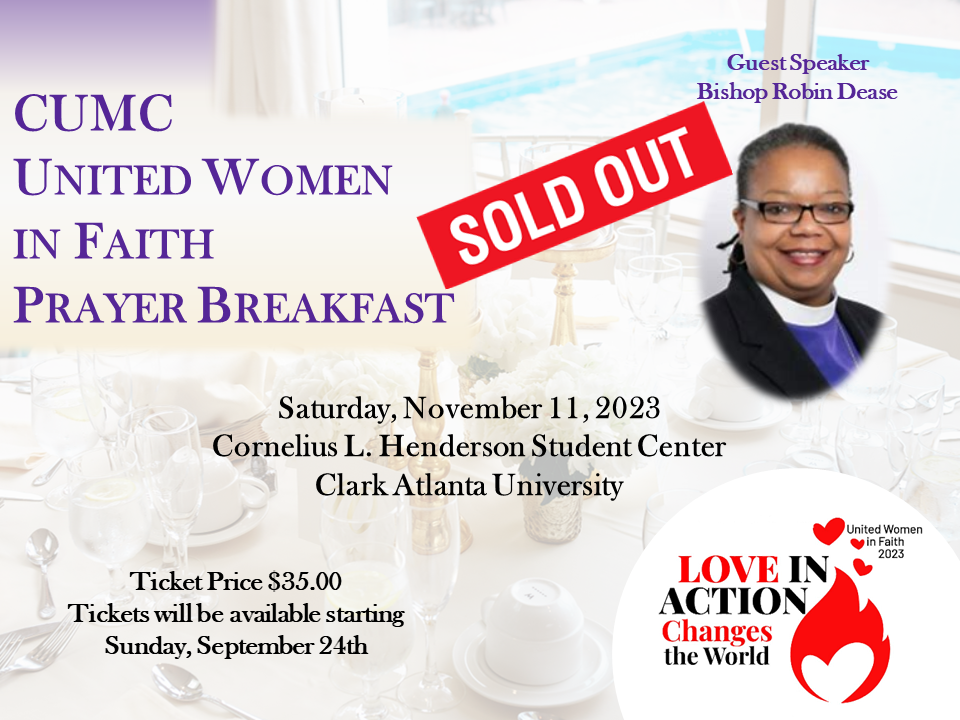 CUMC UWF ATTEND 2023 North Georgia UWF Annual MEETING at SMYRNA FIRST UMC
Central's United Women in Faith attended the North Georgia United Women in Faith annual meeting Saturday, October 7, 2023, held at Smyrna First United Methodist Church.  They were joined by Rev. Jasmine Smothers, senior pastor of Atlanta First UMC, in a group photo.  Attendees pictured include (l to r):  Edith Hollis, Phyllis Burse, Rev. Jasmine Smothers, Sheila Powell, Barbara Hubbard, Valeria St-Cyr Clark, Min. Julie Gordon (President CUMC UWF), Jackie Sykes, Claudia Therese Cotton and Bonita Swain.
Thank you for representing Central so well!
2023 North Georgia UWF Annual Breakfast at the Annual North Georgia Conference
We are excited to bring the UWF Annual Breakfast to you, Friday June 2, 7:00AM in Athens, GA.  Before you head off to Conference events, join us as we celebrate 100 Years of Murphy-Harpst!  Together, with Murphy-Harpst, our speaker Scott Fuller, and YOU, we'll be "Helping Make Dreams Come True."  We will also hear from our new Deaconess, Becky Gaar.
Deadline to register is midnight on May 19. Cost is $25 for a delicious buffet breakfast.
Please encourage your local units, lay leaders, and pastors. You do not have to attend Annual Conference to come to this.
Everyone is welcome! Click here to register.
Lenten Day Apart Service:

a Call to Love
The annual Lenten Day Apart Service for the Central North District of United Women in Faith (UWF) was held Sunday, April 2, 2023, at Central United Methodist Church in Atlanta.  The occasion, "Love in Action Can Change the World," began with a reception hosted by Central's UWF in the Dotson-Ogletree Fellowship Hall for a time of friendship, joy and food for the soul.
"I am so proud of Central UMC joyously hosting the Central North District United Women in Faith Lenten Day Apart Service," said Julie Gordon, president of Central's UWF.
"We witnessed love in action throughout the planning process, setting up, during the reception and especially while worshipping the Lord!  We had a spirit-filled time of praising God!  We are now energized to take that love, get into action and change the world!" she proclaimed. 
Indeed, the worship experience was filled with the sounds of an intergenerational choir, led by Susan Gibson, lifting the love of God in song—from gospel to great hymns of praise, such as "Great is Thy Faithfulness."  A rousing solo performance by Alva Rowland of "Come, Thou Fount of Every Blessing" moved congregants to their feet. 
In her message, Rev. Dr. Shannon Karafanda, the executive pastor of Peachtree City United Methodist Church, reminded the gathered that "Love is the language of discipleship."  That as members of UWF, they are called by God to be "the light of the world" and to "disrupt the world with love."
When asked if she had any parting thoughts on Lenten Day Apart 2023, President Gordon stated, "We extend a special thanks to Edith Hollis, our immediate CUMC UWF past president, who served on the planning committee and beautifully coordinated Central's efforts as the host church.  Also, we thank our senior pastor, Rev. Dr. Vance P. Ross, our Central staff, choir members, musicians, ushers, greeters, hospitality ministry, decorators and all that made this event so very special."
Reading Program: Author Talk
Thank you to the many United Women in Faith members and friends who joined us in February for a special, live Reading Program Author Talk with Brittany K. Barnett, author of A Knock at Midnight: A Story of Hope, Justice and Freedom. Missed the live talk? Attended and want to share the experience with your unit, district or conference? We have prepared a highlights video from the author talk for your use. This brief educational resource on mass incarceration and its impact on women and girls is now available on our YouTube channel at no cost.
To access the video, click the link above or copy-and-paste the following URL into your browser: https://www.youtube.com/watch?v=rLKBsb9YE8I
About A Knock at Midnight: Brittany K. Barnett was a law student when she came across the case that would change her life forever—that of Sharanda Jones, single mother, businessowner, and, like her, Black daughter of the rural South. A victim of America's war on drugs, Sharanda had been separated from her young daughter and was serving a life sentence without parole for a first-time drug offense. As Barnett studied this case, a system came into focus with widespread racial injustice at the core of America's addiction to incarceration. Moved, Barnett set to work to gain Sharanda's freedom. The memoir is at once Barnett's coming-of-age story and a powerful evocation of what it takes to bring hope and justice to a system built to resist them. A Knock at Midnight appears on the 2023 Reading Program list as a Leadership Development selection.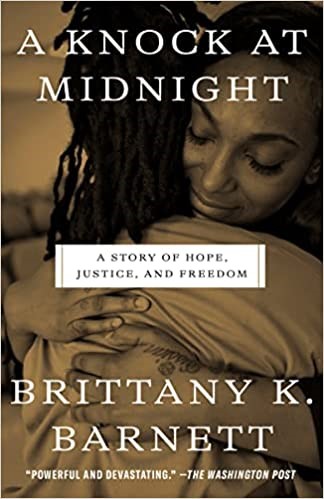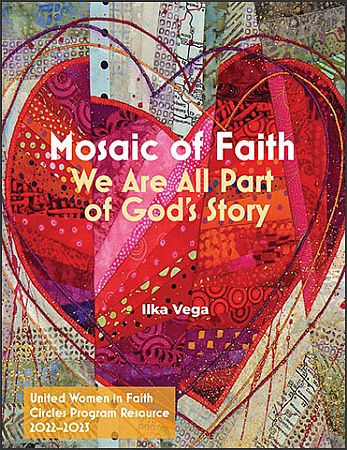 2022-2023 Program Book: Mosaic of Faith--We are All Part of God's Story
We are all part of God's story! The 2022-23 Program Resource shows how we can answer our calling today as women of passion committed to helping women, children, and youth.
The programs are grounded in Mark 8:27–30 as an invitation to reclaim and explore our identity as children of God and as a community of women of faith. The monthly Bible studies, reflections, program activities, and weekly activities to do on your own between each program will help guide us through the year as we look at who we are in Christ and what that means for how we live in community as United Women in Faith members called to action in local and global communities.
CENTRAL'S UNITED WOMEN IN FAITH ATTEND ASSEMBLY 2022

Assembly 2022 was held in Orlando, FL May 20-22, 2022.
Central UWF were present to "Turn It U'!" at Assembly 2022. Min. Julie Gordon, chair of Spiritual Growth, created a presentation chronicling the events and activities of the entire three-day experience.
Click on the link below and see what it was like to TURN IT UP!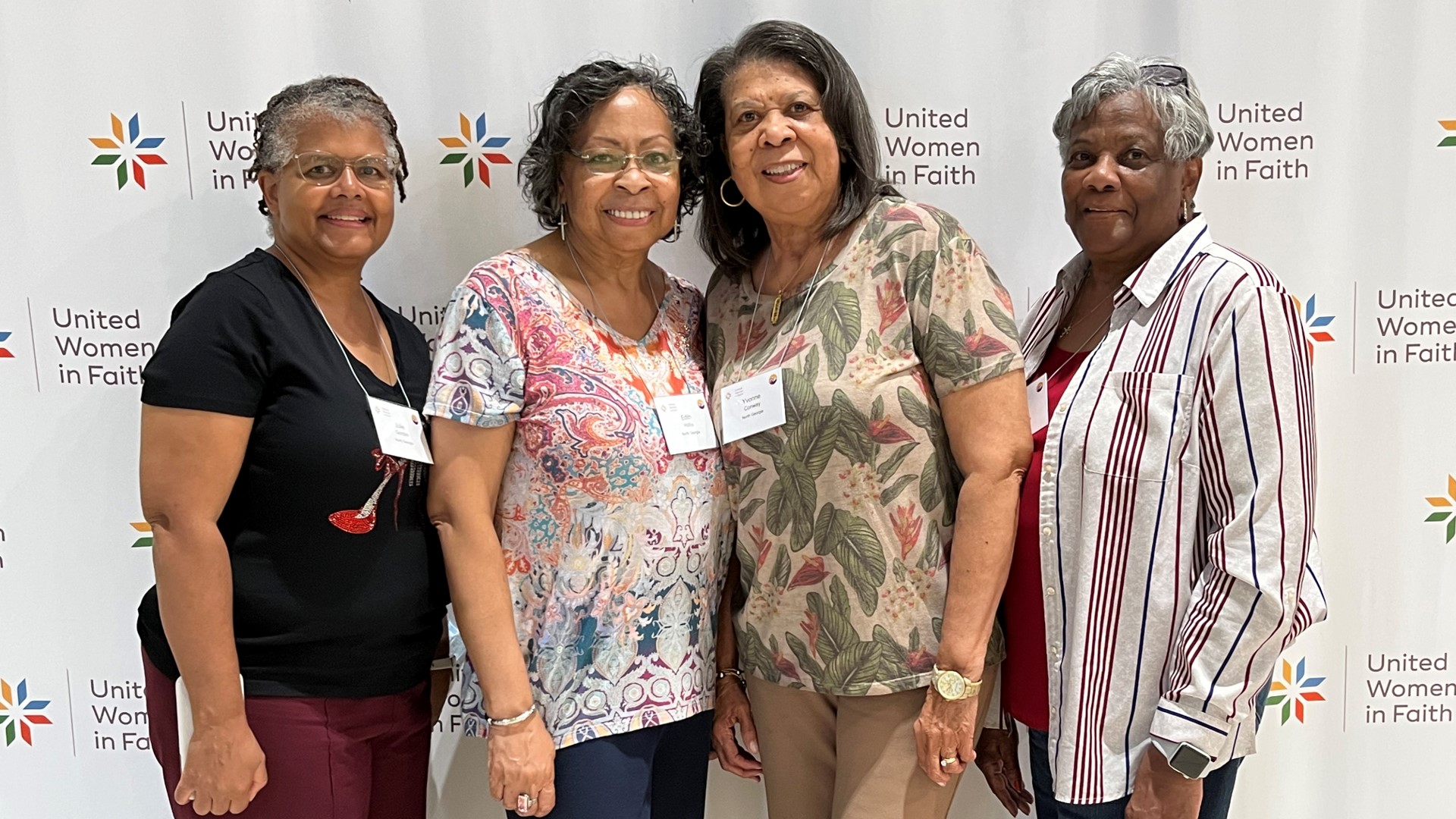 Central's UWF officers attending UWF's Assembly 2022 (left to right): Min. Julie Gordon (Central UWF Spiritual Growth); Edith Hollis (Central UWF Pres.); Yvonne Conway (Central UWF Vice Pres.); Jackie Sykes (Central UWF Social Actions)
Hygiene Kits for central's monday morning ministry
UMW continues to expand concepts of mission through our participation in the global ministries of the church and now in our unique surrounding communities. Beginning in April, we joined with the Monday Morning Ministry to provide hygiene kits for our unhoused neighbors on a continuous basis.
Kits should include:
- face towel
- soap
- deodorant
- toothpaste
- toothbrush
- hand sanitizer
- masks
- one-gallon "ziplock" bag.
Other items may be added, but all must be able to fit in the one-gallon bag. Please specify on the outside of the kit "Men" or "Women."
The kits may be dropped off at the church during operational hours or by contacting Julie Gordon for additional drop off times.
All support is welcomed in the Kingdom of God! Please join us in donating kits.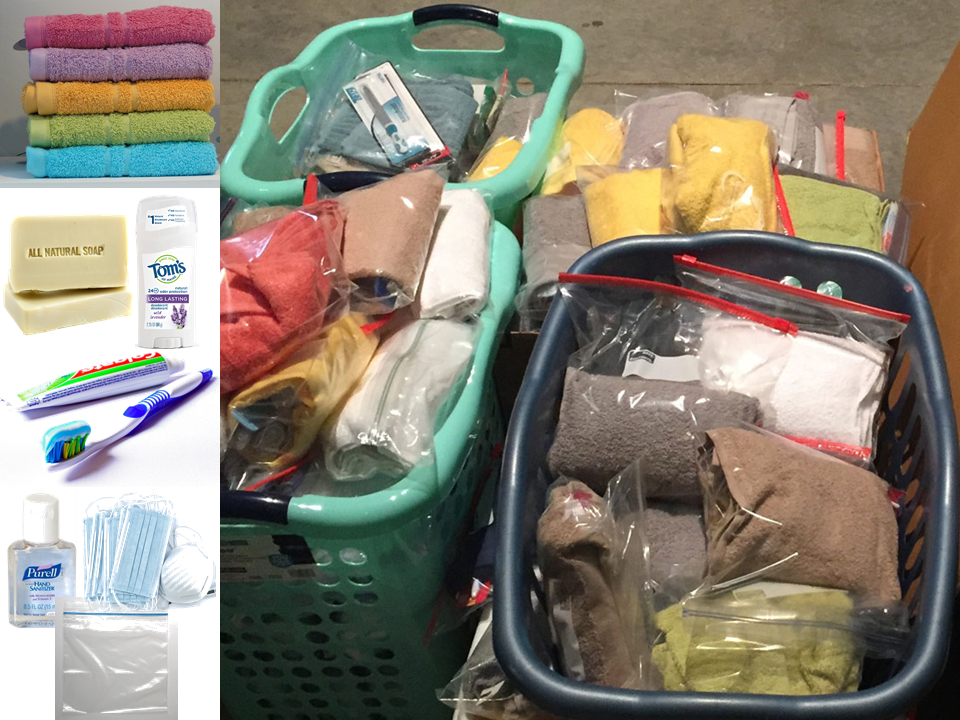 Meet the Executive Committee
Central UWF Meetings Calendar
President - Julie Gordon
Vice President - Yvonne Conway
Secretary - Valeria Clark
Assistant Secretary - Bonita Swain
Treasurer - Sherole Thrash
Spiritual Growth - Effie Chisholm
Resource Secretary - Deborah Love
Membership, Nurture and Outreach - Barbara Hubbard
Social Actions - Jackie Sykes
Nominations - Phyllis Burse
Education & Interperation - TBD
Communications - Pamela Perkins Carn

Email Address: united.methodist.women@centralumcatl.org or jkgord2@gmail.com
Next Meetings

Executive Committee Meeting –October 23, 2023, 5:30pm Virtual

Executive Committee Meeting – November 13, 2023, 5:30pm Virtual

General Meeting – January 27, 2024, 11:00am, In Person and/or Hybrid
ACCESS UWF: DISTRICT - CONFERENCE - NATIONAL
UWF advocacy opportunities
Foreverfamily – Helping Children of Incarcerated Parents
Nearly six million kids in America have experienced losing a parent to prison or jail at some point in their lives. Foreverfamily works to ensure that, no matter what the circumstances, all children have the opportunity to be surrounded by the love of family.
Our organization focuses on providing services to children with incarcerated parents and their families. After 30 years, we are more committed than ever to our mission. We anxiously anticipate strengthening our relationships in the community to serve our children and families in new, innovative ways in 2020 and beyond. [Learn more]
Tell Your Representative: Take Federal Action to Help End School Pushout!
Show your support for the federal Ending PUSHOUT Act! As United Women in Faith members and friends, we are called to do all we can to interrupt the school-to-prison pipeline. Children of color, especially, are far too often targets of broken and biased systems. We know that racial disparities are rampant, with Black girls about six times as likely to be suspended as white girls. [Learn more]