GLOBAL IMPACT CELEBRATION 2023!
WORSHIP, FELLOWSHIP, SERVICE
Central United Methodist Church is the church at the heart of the city with the city at heart.  The Global Impact Celebration is part of our ongoing journey to train, mobilize and move Central as the body of Jesus Christ into service for mission within our unique surrounding community and beyond.
WHY THE GLOBAL IMPACT CELEBRATION?
The Global Impact Celebration is a significant event in the life of the church. This event is a driver to help create and maintain a culture of missions at the church, cast the church's vision for missions, and share and celebrate the church's commitment to local, national, and global missions.  (TMS Global)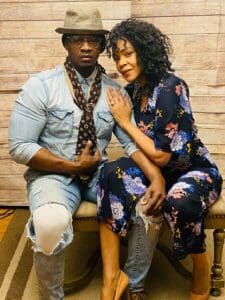 Meet Eric & Medina Potter
The Wall panels will be displayed for members to place prayers and to collectively pray for the unreached regions. In addition, we are excited to share the link to participate in global prayer at any time! This is an interactive way to lead up to the Wall event during GIC and can provide a way for the Holy Spirit to prepare hearts beforehand. Central, let's cover the world in prayer!
As part of its missional effort, Central has adopted the Book of Esther to translate into LuBwisi, which is the language of the BaBwisi people of Uganda.  Your gift of $35 will ensure that the printed Word of God is made available to our brothers and sisters in our great diaspora.  (Please indicate "Adopt A Verse" in the "Other" section.)
To learn more about the BaBwisi people and the effort to translate the Bible into their language, check out this article.
As each has received a gift, use it to serve another, as good stewards of God's varied grace.  1 Peter 4:10
Please review the the outreach mission projects listed below and consider how you can provide service for these projects--whether it is providing the needed supplies or volunteering your service Saturday, September 23rd, to feed the hungry, collect and package books for children, or package disaster kits.  Click on the "Volunteer" button below and sign up today!
St. Francis Table Soup Kitchen
Your service is needed to help at the St. Francis Table Soup Kitchen. St. Francis is located at 48 MLK, Jr. Dr. SW. The hours are from 7:30 am - 12:00 noon (or until area is cleaned). 25 volunteers are needed. Great ministry team opportunity!
Children under 12 are not able to volunteer and children 13-18 must be always supervised.  Go to St. Francis Table | Catholic Shrine Atl (catholicshrineatlanta.org) for more volunteer rules and FAQs.
Clarkston's Community Center Book Share and Story Time
There's a place for everyone! Help collect and package books for children for the Clarkston Community Center. This project will be located on the Central UMC campus in the Central UMC Educational Center, from 8:00 am -12:00 noon.  30 volunteers are needed.  This is a great volunteer project for children, youth, and adults.
United Methodist Committee on Relief (UMCOR)
Help assemble hurricane flood buckets and hygiene kits for disaster relief. The project site is located at the UMCOR warehouse at Impact Church, 2323 Sylvan Rd, East Point, GA 30344. Click here to complete the liability form prior to your arrival at the project site. The hours are from 8:00 am - 11:00 am. 30 volunteers are needed.
The Outreach Program: Ending Hunger, Enriching Lives
Let's embrace our global responsibility to our brothers and sisters in crisis. Help assemble and pack 4, 000 meals to be distributed to families in Haiti. The site for this project will be on the Central UMC campus in the Dotson-Ogletree Fellowship Hall. The hours are from 9:00 am - 12:00 noon. This project is now full.  However, we encourage you to sign up for any of the other service opportunities.
CUMC GIC News and Information
Questions to think about:  Has the US abandoned Haiti?  Why is a police force from Kenya the answer to restoring order?
US tells its citizens to leave Haiti - The Haitian Times
"On the same day two Americans were kidnapped in Haiti and one day after United States diplomatic corps members were ordered to remain inside U.S. compounds, the State Department said all non-emergency personnel should leave Haiti and warned others to stop traveling there."
US praises Kenya's proposal for armed force in Haiti as intervention steps progress - The Haitian Times
"The U.S. Secretary of State Anthony Blinken officially praised Kenya for its proposal to lead a multinational armed force in Haiti, said a release from his office Aug 1. The day before, the State Department affirmed that it will submit the proposal as a United Nations resolution, a requisite step in the efforts to send the armed force that Haiti's prime minister requested 10 months ago."
Council on Foreign Relations Daily News Brief, August 31, 2023 - Analysis
"The last UN-led military mission to Haiti left a legacy of trauma and disease," journalist Monique Clesca writes for Foreign Affairs. "By taking the place of Haiti's police and military, plus its government agencies and civil society—without sufficiently reinforcing or supporting reforms in any of them—UN forces weakened Haitian institutions and exacerbated problems in governance that led to the current crisis."
"The long delay in assisting Haiti now calls for a thoroughgoing reconstruction of the nation's most vital institutions, starting with the government itself, and including private businesses of all shapes and sizes, schools and universities, hospitals and other medical facilities, and religious centers," the Inter-American Dialogue's Peter Hakim writes. "It will be up to the United States and other high-income countries to provide the needed support. Kenya cannot help on this score."
UMCOR aids flood-ravaged Nigeria (umnews.org)
"Flood survivors in the Nigeria Episcopal Area are getting much needed food and other support through a $150,000 grant from the United Methodist Committee on Relief.
Last year, severe flooding between June and November killed more than 600 people and displaced some 1.4 million in the region.
Nigeria Episcopal Area Bishop John Wesley Yohanna expressed appreciation as the resources were distributed in Jalingo.
"'Brothers and sisters,'" he said, "'what we are witnessing today is the act of God through the United Methodist Board of Global Ministries.'"
(Updated as of Aug. 14, 2023) Wind-driven wildfires on Maui have prompted evacuations and caused significant loss of life and widespread damage. UMCOR is coordinating with the California-Pacific Annual Conference to process an initial grant for emergency supplies such as shelf-stable food, water, hygiene items and tools to help survivors recover belongings. As first responders continue to provide initial aid in the area, please join UMCOR in prayer for those affected. Gifts can be made in the following ways:
By toll-free telephone call: 1-888-252-6174
By check made out to Global Ministries/UMCOR with "Advance #901670-Hawaii" written on the memo line and mailed to Global Ministries/UMCOR, GPO, P.O. Box 9068, New York, NY, 10087-9068
By check made out to Global Ministries/UMCOR with "Advance #901670-Hawaii" written on the memo line and given to any United Methodist church.
View and download resources for giving here.